Dominican High School Cross Country
This is the website of the Dominican High School Cross Country team in Whitefish Bay, WI.
News
Practice Schedule
Monday - Friday, 4pm - 5:15/30pm
Saturday Mornings, 8am - 9:15/30amImportant Info!
Make sure to complete the athlete registration found in the upper right corner of the Dominican Athlete website before our first practice!Interested in joining DHSXC for the 2022 season? Questions? Contact Coach Aaron Pierce at the contact link!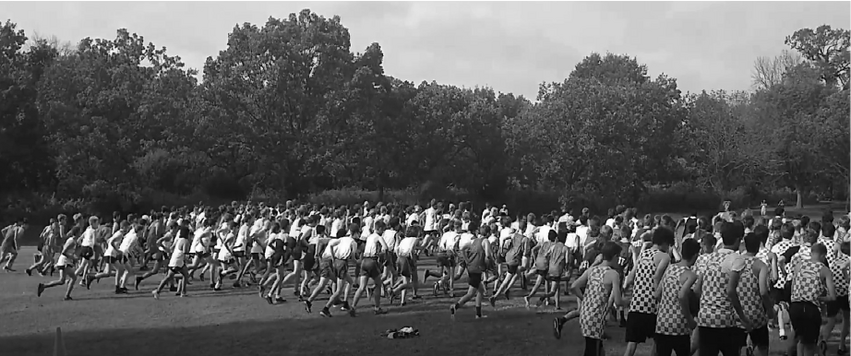 Schedule
First Practice! August 15th Dominican High School, 4pmThursday August 25th Shorewood Invite - Lincoln Park, MilwaukeeTuesday, August 30th Kenosha St. Joseph Invite - UW-ParksideFriday, September 9th Racine St. Catherine's - Johnson Park, RacineThursday September 15th WFB Cross Country Invite - Kletzsch ParkFriday September 23rd Bradley Tech Invite, Mitchell Park, MilwaukeeSaturday, October 1st Purgold Invite - Sheridan Park, CudahyThursday, October 6th Port Washington Invite - Tendick Park, SaukvilleSaturday, Conference Meet October 15th - UW-ParksideSaturday, Sectional Meet, October 22nd (Arrowhead High School)WIAA State Meet October 29th, Wisconsin Rapids (Qualifiers only)End of Season Team Banquet - TBD
Record Book
This record book is very unofficial, and by is by no means totally comprehensive (the school opened in 1956). Everything in the 2000 - present WIAA era is accurate.
1984 - WISAA Girls State Champions
All Conference (WIAA era)
Hayley Panasiuk 2005
Hayley Panasiuk 2006
Christian Lesac (1st place) 2016
Catherine Phillips 2017
Ma'Rico Holland 2017
Aidan Phillips (1st place) 2018
Catherine Phillips 2018
Aidan Phillips 2019
Nora Schuele 2019
Aidan Phillips (1st place) 2020
Josh Lesac 2020
Josie Balistreri 2020
Josie Balistreri 2021
State Qualifiers (WIAA era)State Finish
Hayley Panasiuk 2005 8th overall
Hayley Panasiuk 2006 5th overall
Christian Lesac 2016 59th overall
Catherine Phillips 2017 68th overall
Ma'Rico Holland 2017 81st overall
Catherine Phillips 2018 63rd overall
Aidan Phillips 2020 20th overall
Fast Times
different distances were run in different erasGirls 3200m (best time for each runner listed)
Oct 27, 1984 Anne Turzlnski 12:10 WISAA State Dretzka Park, Milwaukee 3rd Overall
Nov 2, 1985 Annemarie Scobey '86 12:27 WISAA State UW-Parkside 2nd Overall
Oct 27, 1984 Marcy Hackbarth 12:53 WISAA State Dretzka Park, Milwaukee 10th Overall
Oct 27, 1984 Robin Yamachika 13:06 WISAA State Dretzka Park, Milwaukee 14th Overall
Oct 27, 1984 Bridget Young 13:10 WISAA State Dretzka Park, Milwaukee 15th OverallGirls 4000m
Oct 29, 2005 Hayley Panasiuk '07 15:42.9 WIAA Division 3 State 8th Overall
Oct 21, 2006 Hayley Panasiuk '07 15:41 WIAA Division 3 Arrowhead Sectional 1st Overall
Oct 28, 2006 Hayley Panasiuk '07 15:29.2 WIAA Division 3 State 5th OverallGirls 5000m
Oct 4, 2018 Catherine Phillips '19 20:28 Port Washington Invite
Oct 22, 2021 Josie Balistreri '22 21:03.4 WIAA Division 2 Sectional, Lincoln ParkBoys 5000m (best time for each runner listed)
10/23/1982 Eric Gietzen '84 16:26 Conference Meet Pritchard Park 6th Overall
10/23/1982 Peter Bandettini '84 16:28 Conference Meet Pritchard Park 8th Overall
1984 Ken Miller 16:34 Conference Meet Minooka Park 3rd Overall
1986 Todd White 16:39 Conference Meet Washington Park (Milwaukee) 3rd Overall
1981 Anthony Ramirez 16:40 Conference Meet Greene Park (St. Francis) 3rd Overall
1987 Rob Hartman '88 16:41 Whitefish Bay Invite Kletzsch Park
9/19/2020 Aidan Phillips '21 16:45.45 Sheboygan Lutheran Hilltopper Invite Sheboygan Lutheran
10/19/2020 Joshua LeSac '21 17:05.9 WIAA D2 - Sub Sectional 6B Tendick Park, Saukville
10/30/1999 Joel Cohen '00 17:08 WISAA State UW-Parkside 5th Overall
1981 Mike Thelen 17:12 Conference Meet Greene Park (St. Francis) 10th Overall
1990 Doug Smaglik '91 17:14 Conference Meet Minooka Park 4th Overall
1990 Erran Bennett 17:28 Conference Meet Minooka Park 7th Overall
Coach
Coach Aaron Pierce is a Dominican High School alumnus. He has been coaching at various levels since 2004. With DHS since 2015, Coach Aaron has contributed to 11 All-Conference honors, and five runners qualifying for the WIAA state meet. Coach Aaron was promoted to Head Coach in 2021.